Face the Cow
A downloadable game for Windows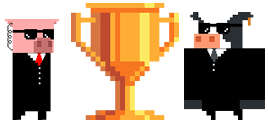 Face the cow is a game I made during the 2018 summer. It is a pretty simple prototype I wanted to work on to try doing a small bullet hell game. The game is pretty hard, the achievements are unfair to unlock, but I'd suggest you to give it a try!
This game can trigger seizures for people with photosensitive epilepsy. Do not play it if you're one of them!

Install instructions
Unzip the file and launch Face the cow.exe.