Drunkken Drunkken is a fighting arcade game, where players will be able to play alcohol characters ! Embody those liquid fighters and prove your skills in a fast-paced 1v1 game, where you will have to dodge your opponent's attacks, while you make his life harder and harder to win!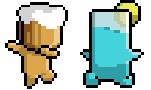 The game has been made by a team of 5 students for the Brains Eden 2019, and it has been awarded by the event's technical team. We wanted to add some new things and features to the game, but we did not do it and since a few months have passed, we decided to upload the game as it is! (There's only been some improvement on the code and plaforms movement, and we implemented the ability to select character)
Playable by 2 players with controllers or keyboard (or both)! Make sure to enable fullscreen if you're playing the web version.
MADE BY
Roland De Tomasi - Character Art
Camille Sagot - Art Direction & Environment
Antoine Torcq - Environment & Sound Design
Martin Farissier - General Game Art & UI Art
Robin Six - Programming
CONTROLS
Move with A/D, Q/D, arrows, or left joystick.
Jump with spacebar, up arrow, or A on controller.
Attack with E, P, or X on controller.
Comments
Log in with itch.io to leave a comment.
whats the keyboards control or is just in the game like a tutorial?
You have to be two players, ideally with two xbox 360 controllers, and then both players must go onto the "Start" button and smash them!
Could i use this character in a fighting game i am making? It will feature different Itch.io characters from many games and they will all be fighting, kinda like smash bros.
Hey! That is flattering but we'll keep our two characters only in our game for the moment !